America by Bicycle Cycling Delegation to China
April 12 - 26, 1997
April 11 - 25, 1998

---
Announcing a Special Cycling Adventure to the Once Forbidden
People's Republic of China!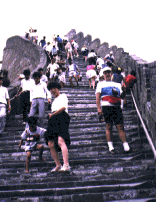 On the Great Wall
America by Bicycle is proud to offer the opportunity to cycle and tour the People's Republic of China in 1997. As part of the America by Bicycle program, you will be an American Ambassador to China and treated to a rare glimpse inside the world of the People's Republic. This is not your typical tour by any means and cycling is only a small part of this adventure, averaging just under 300 miles in two weeks. The real experience is in the country itself. And this tour will offer you the opportunity to see the country in a First Class way. The touring itinerary is jam packed with activities guaranteed to keep you busy exploring the streets and top tourist locations as well as a first hand look into the real world of everyday China, rarely seen by outsiders.
---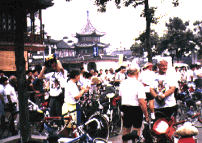 A Temple Stop
America by Bicycle is proud to be working with the China International Travel Service. C.I.T.S. has hosted tours for many of the top dignitaries in the United States as well as other United Nation countries. Catering to VIP's who want exemplary treatment, C.I.T.S. will help you to see, smell, hear, touch and taste the real China in a professional, first class, western touring style.
C.I.T.S. has a long history working with the United States State Department in hosting cultural exchange tours. This expertise will make the America by Bicycle China Bicycling Delegation a First Class Tour of the country and an experience you will never forget.
---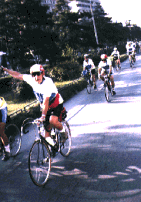 On the way to the Great Wall
Price of the Delegation includes: Airfare to/from China departing/returning San Francisco, domestic air tickets in China, First Class accommodations with double occupancy rooms (Single supplement available), three meals a day with western breakfasts at the overnight hotel and the rest at local Chinese restaurants, Sag Wagon support whith fruit and snacks when cycling, modern air-conditioned motorcoach ground transportation, admission to parks, scenic spots, museums, cultural performances, local and national guides who speak Chinese and English and who will translate on the stree, and so much more!
---
This is a first class adventure proudly offered at $4,500 per person plus a $100 registation fee to reserve your spot. Plan your next adventure and register today! Simply send us some email at [email protected].
Please check out our China Itinerary with more great pictures!
---

Here's what cyclists are saying about America by Bicycle!


Questions about our tours? Drop us a line at [email protected]
Copyright 1997, America by Bicycle. All rights reserved. All trademarks are owned by the respective company or America by Bicycle. P.O. Box 805, Atkinson, NH 03811-0805, (603)382-1662, FAX (603)382-1697
Web design services provided by SurfUtah.com