A Typical Day
---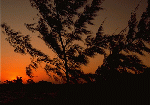 Good Morning America. You'll awake refreshed after a terrific nights rest in a quality AAA rated motel. Take a hot shower and suit up for a great day of cycling. Walk over to the motel function room for a complete breakfast. Plenty of pancakes, fresh fruit, cereal, oatmeal, etc., will fuel you on your way. Now you're ready to see the sights. It's a beautiful sunny spring day, the birds are singing, the sky is blue and the country side is calling, "Come explore me."
Outside the luggage vehicle awaits to carry your gear to the next motel in style. You're all set to go! Follow the days cue sheet, it will be your guide pointing out turns, mileage, terrain, lunch stops and points of interest right down to the final turn into tonight's motel.
Enjoy a full day of cycling at your own pace. Some days you'll cycle a touring pace, stopping often to see, touch, smell, and taste the area around you. There are so many sights to see and explore everyday. Other days you might ride along with new friends or pick up the pace a little. You cycle the way you're most comfortable, everyday!
Stop at the scheduled Sag Stops throughout the day to refuel with sports drinks, grab a banana or granola bar and apply some sun screen. You will see the mechanic roll by many times throughout the day, who will stop whenever you need his attention.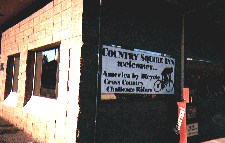 Upon arrival at the evenings motel, check-in and relax, go for a swim in the pool, take a hot shower, explore town or take a nap before dinner. At dinner you'll be treated to a delicious buffet. The food is plentiful and the company is terrific. After dinner you receive a map and cue sheet for the next days ride, a tour leader will then review the day. Time for questions! The rest of the evening is yours to explore, socialize, party, watch a movie or just relax.
Bedtime comes, relax in your own soft bed, set a wake up call and dream about tomorrow's adventure. Good Night America!
---


Questions about our tours? Drop us a line at [email protected]
Copyright 1997, America by Bicycle. All rights reserved. All trademarks are owned by the respective company or America by Bicycle. P.O. Box 805, Atkinson, NH 03811-0805, (603)382-1662, FAX (603)382-1697
Web design services provided by SurfUtah.com