The Great Mississippi River Ride


September 5 - 30, 1997
September 4 - 29, 1998
---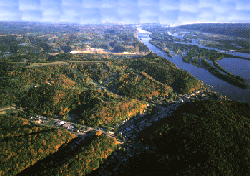 ---
Follow the Mighty Mississippi River on a magical and history filled adventure. Join us as we cycle the "River Road" departing Minneapolis for the blue waters of the Gulf of Mexico. The Northern sections of the Mississippi River roll up and down along the bluffs created by the great Glaciers creating the tremendous Mississippi River Valley.
For over 1600 miles you will ride the road less travelled, seeing the history of the rivers discovery, the industrial periods, the Civil War history, the Great River Boat days as you cross back and forth over the great river nine times. You'll meet some friendly folks too as you roll through nine States on your way to the "Big Easy".
Plan your cycling calendar now and don't miss the boat. This ride will average 70 miles per day allowing plenty of time for sightseeing. Some of the sights and places you'll see: Red Wing, The Gateway Arch, Grant's Farm, Elvis' Graceland, The Natchez Trace, Vicksburg, just to name a few. Two spectacular rest days will be near St. Louis, MO and Memphis, TN. Off days allow extra time to see the sights.
We are also offering this ride in three seperate parts for those who cannot spend 25 days away. Check out the Great Northern River Ride, the Great Central River Ride, or the Great Southern River Ride, for more info!
The Great Mississippi River Ride will be a ride to remember!

           Mississippi River Ride
                                                   Day's  Half   Total
    Day       Location                             Miles  Miles  Miles
   Day 1    Minneapolis to Redwing, MN              51     25     51
   Day 2    Redwing to La Crosse, WI                99     48    150
   Day 3    La Crosse to Praire du Chien, WI        64     32    214
   Day 4    Praire du Chien to Dubuque, Iowa        75     37    289
   Day 5    Dubuque to Clinton, Iowa                70     35    359
   Day 6    Clinton to Galesburg, IL                78     39    437
   Day 7    Galesburg to Keokuk, IA                 82     41    519
   Day 8    Keokuk to Hannibal, MO                  59     29    578
   Day 9    Hannibal to St. Charles, MO             95     47    673
   Day 10   St. Charles - Rest Day                   0      0    673
   Day 11   St. Charles to Festus, MO               70     35    743
   Day 12   Festus to Ste. Genevieve, MO            55     27    798
   Day 13   Ste. Genevieve to Cape Girardeau, MO    67     33    865
   Day 14   Cape Girardeau to Union City, TN        94     47    959
   Day 15   Union City to Dyersburg, TN             38     19    997
   Day 16   Dyersburg to Memphis, TN                79     39   1076
   Day 17   Memphis - Rest Day                       0      0   1076
   Day 18   Memphis to Hernando, MS                 45     22   1121
   Day 19   Hernando to Clarksdale, MS              75     37   1196
   Day 20   Clarksdale to Greenville, MS            80     40   1276
   Day 21   Greenville to Vicksburg, MS             99     48   1375
   Day 22   Vicksburg to Natchez, MS                67     33   1442
   Day 23   Natchez to St. Francisville, LA         61     30   1503
   Day 24   St. Francisville to Gonzales, LA        63     31   1566
   Day 25   Gonzales to New Orleans, LA             65     32   1631
                                   Total Mileage                1631

---


Questions about our tours? Drop us a line at [email protected]
Copyright 1997, America by Bicycle. All rights reserved. All trademarks are owned by the respective company or America by Bicycle. P.O. Box 805, Atkinson, NH 03811-0805, (603)382-1662, FAX (603)382-1697
Web design services provided by SurfUtah.com