The Cross Country Challenge


June 6 to July 28 1997
June 6 to July 28 1998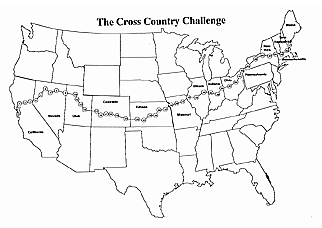 ---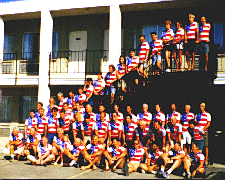 See the breathtaking beauty of the United States as you cycle coast to coast on the Cross Country Challenge. You will depart the famous "City by the Bay," San Francisco and dip your rear wheel in the Pacific Ocean at Golden Gate State Beach. California passes quickly as you cycle over the Sierras and coast into Reno, Nevada. Then you'll cycle through the vast desert beauty of the "Nevada Bad Lands" and on to Salt Lake City, Utah. From the majestic beauty of southern Utah you'll cycle into Colorado and cross the Rockies. The plain states come quickly as you watch the country pass before your eyes and you arrive at the half way point, Abilene, Kansas.
---
Next you'll conquer the great Missouri and the Mississippi rivers and the east is at hand. Then experience the green, lush farmland of Illinois, Indiana, and Ohio. You'll continue on through the beauty of New York State and over the Berkshires to Massachusetts. The Merrimack Valley calls as you cut across southern New England to Maine and touch the Atlantic Ocean.
---
Along the route you'll see such sights as the Olde Town Sacramento, Lake Tahoe, Temple Square, Old Dodge City, Eisenhower Center, Lincoln's Home, Indianapolis Motor Speedway, and Lake Erie just to name a few. Join us on an adventure this summer with...

America By Bicycle
A new ride option is now available on the Cross Country Challenge. If you are unsure about the daily mileage, you may now ride half days. Cycle as long as you want or take a half day. Cycle your pace and the mileage you want while seeing America by Bicycle.
---

Check out our Tour Itinerary...O the Places You'll Go!


Questions about our tours? Drop us a line at [email protected]
Copyright 1997, America by Bicycle. All rights reserved. All trademarks are owned by the respective company or America by Bicycle. P.O. Box 805, Atkinson, NH 03811-0805, (603)382-1662, FAX (603)382-1697
Web design services provided by SurfUtah.com