How to Get Started

---
Sign-Up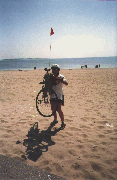 Choose the ride of your choice and send an e-mail message to [email protected] to request a registration form. Include your Post Office address. Mail the request form and a registration form with the appropriate registration fee to America by Bicycle. Upon receiving your registration form, we will send you a Tour kit. As the ride approaches, you will receive the Rider kit.
Tour Kit Includes:
Trip Itinerary and Map
Long Distance Cycling Guide
"Street Smarts" Safety Guide
Training Guide
Informational Forms
America by Bicycle Information
Guidance from the Experienced AbB Staff
Fund Raising Kit (optional)
Rider Kit Includes:
Trip Itinerary
Orientation Itinerary
Daily Schedule Guide
Ride Roster
Motel List
How to Pack / What-to-Bring List
General Tour Information
---
Registration Fee
Remember the Registration Fee is a fee to register and reserves your spot on the tour of your choice. It is not a deposit and it is not applied toward the cost of your chosen tour.
Please note if you are registering for more than one event you pay only one registration fee!
---
Cancellation and Refunds
Cancellation in writing up to 60 days prior to the start of the tour receives a 50% refund of the registration fee. Cancellation in writing less than 60 days prior to the start of the tour will not receive a refund of registration fee or tour costs.
---


Questions about our tours? Drop us a line at [email protected]
Copyright 1997, America by Bicycle. All rights reserved. All trademarks are owned by the respective company or America by Bicycle. P.O. Box 805, Atkinson, NH 03811-0805, (603)382-1662, FAX (603)382-1697
Web design services provided by SurfUtah.com