The Great Northern River Ride
Saturday, August 13 to Monday, August 22, 2005
Saturday, August 12 to Monday, August 21, 2006
---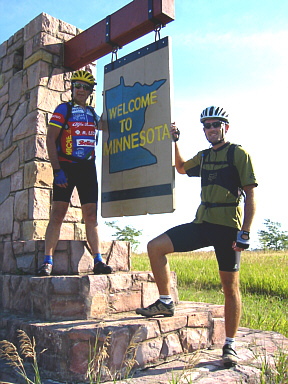 The Great Northern River Tour will take you on a fun and adventure filled tour from Minneapolis, Minnesota to St. Charles, Missouri in 9 days. Once you depart Minneapolis the riding gets rural. You'll find the people friendly as you pass through small town America.
From Hastings you'll follow the National River Road all the way to Red Wing, a quaint river town made famous for its shoes and pottery. You'll soon notice the many Locks on the river. Stop and learn the need for them and their history. The scenery is fantastic from on top of the bluffs.
Continuing on the River Road you'll cycle through Wisconsin and into Illinois. And then you'll roll into the historic town of Hannibal, Missouri. Tour the town and see the Hannibal that inspired Mark Twain's Tom Sawyer.
The tour ends in St. Charles, Missouri, just a stones throw from St. Louis. Take a day to tour downtown St. Louis and visit the Gateway Arch.
This is truly a ride to remember!
The Great Northern River Ride
Day
Location
Day's
Mileage
Total
Mileage
Day 0
Minneapolis, MN
0
0
Day 1
Redwing, MN
53
53
Day 2
La Crosse, WI
100
153
Day 3
Prairie du Chien, WI
65
218
Day 4
Dubuque, Iowa
69
287
Day 5
Clinton, Iowa
77
364
Day 6
Galesburg, IL
86
450
Day 7
Keokuk, IA
95
545
Day 8
Hannibal, MO
64
609
Day 9
St. Charles, MO
98
707
Total Mileage
707
Back to the Great Mississippi River Ride
The Great Central River Ride
The Great Southern River Ride

---
[GENERAL INFO] [PRICES] [GET STARTED] [HOME]
[Fast Ride] [Cross Country] [Across America North] [Fast America South] [Ride the East]
[Mississippi River Ride] [Fall Foliage Classic] [Maine Foliage Tour] [Cross State Tours]
[Typical Day] [FAQs] [Testimonials] [Riders' Pages] [Pictures] [Links]
[Employment Opportunities]

Copyright © 1997 - 2004 America by Bicycle.
All rights reserved.
All trademarks are owned by the respective company or
America by Bicycle
P.O. Box 805
Atkinson, NH 03811-0805
(603)382-1662, (888)797-7057
FAX (603)382-1697, E-Mail:America by Bicycle Info



Last Updated: 9 Nov 04




Web design services provided by Dragonfly Marketing