Ride the East
Saturday, August 20 to Wednesday, September 14, 2005
Saturday, August 19 to Wednesday, September 13, 2006
---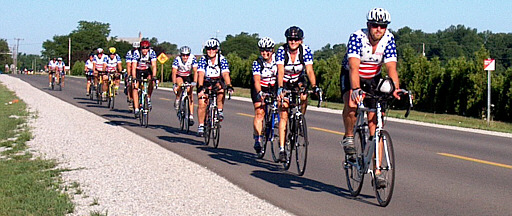 Cyclists have been asking for a new event right here on the East Coast. America by Bicycle proudly offers the 2005 "Ride the East" Tour. This fun filled bicycle tour will take cyclists on an Eastern States Adventure. We'll roll from Portsmouth, New Hampshire south for an exciting 25-day, 1,600 mile ride to St. Augustine, Florida. Lock your cleats in for the ride of your life.
Please check back soon for updated Ride the East information!
Check out our Tour Itinerary
Also Available:
Ride the East "North"
Ride the East "Central"
Ride the East "South"

---
[GENERAL INFO] [PRICES] [GET STARTED] [HOME]
[Fast America Ride] [Cross Country] [Across America North] [Fast America South]
[Mississippi River Ride] [Fall Foliage Classic] [Maine Foliage Tour] [Cross State Tours]
[Typical Day] [FAQs] [Testimonials] [Riders' Pages] [Pictures] [Links]
[Employment Opportunities]

Copyright © 1997 - 2004 America by Bicycle.
All rights reserved.
All trademarks are owned by the respective company or
America by Bicycle
P.O. Box 805
Atkinson, NH 03811-0805
(603)382-1662, (888)797-7057
FAX (603)382-1697, E-Mail:America by Bicycle Info



Last Updated: 11 Nov 04




Web design services provided by Dragonfly Marketing