The Great Southern River Ride
Tuesday, August 30 to Wednesday, September 7, 2005
Tuesday, August 29 to Wednesday, September 6, 2006
---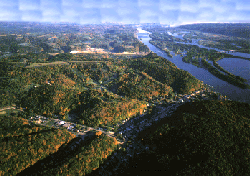 The Great Southern River Ride will take cyclists on a terrific 8 day tour through the Grand Old South following the Mississippi River from Memphis, Tennessee to New Orleans, Louisiana.
From Memphis you'll cycle out into the rural countryside of the fertile delta farming belt of Mississippi. Watch as we cycle through the fall harvest period with the cotton, rice, sugarcane, and fishing industries in full swing.
Mississippi is also home to the Delta Blues. You are sure to hear the local music as we travel our way to Louisiana. Stops in Vicksburg and Natchez overflow with Civil War history. As we make our final push to New Orleans we'll ride through Baton Rouge and past Louisiana State University. Once in New Orleans be sure to tour the down town areas full of action and history.
This is a terrific ride!
Southern River Ride
Day
Location
Day's
Mileage
Total
Mileage
Day 0
Memphis, TN
0
0
Day 1
Hernando, MS
37
37
Day 2
Clarksdale, MS
82
119
Day 3
Greenville, MS
80
199
Day 4
Vicksburg, MS
101
300
Day 5
Natchez, MS
88
388
Day 6
St. Francisville, LA
95
483
Day 7
Gonzales, LA
57
540
Day 8
New Orleans, LA
78
618
TOTAL MILEAGE
618
Back to the Great Mississippi River Ride
The Great Northern River Ride
The Great Central River Ride
---
[GENERAL INFO] [PRICES] [GET STARTED] [HOME]
[Fast Ride] [Cross Country] [Across America North] [Fast America South]
[Mississippi River Ride] [Fall Foliage Classic] [Maine Foliage Tour] [Cross State Tours]
[Typical Day] [FAQs] [Testimonials] [Riders' Pages] [Pictures] [Links]
[Employment Opportunities]

Copyright © 1997 - 2004 America by Bicycle.
All rights reserved.
All trademarks are owned by the respective company or
America by Bicycle
P.O. Box 805
Atkinson, NH 03811-0805
(603)382-1662, (888)797-7057
FAX (603)382-1697, E-Mail:America by Bicycle Info



Last Updated: 9 Nov 04




Web design services provided by Dragonfly Marketing